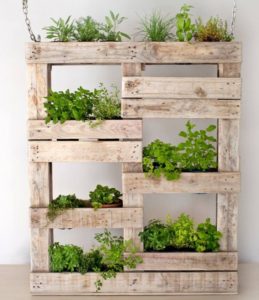 Not having a large space or a patio for your garden. There is no need to worry since you can have your very own garden indoors itself and brighten up the area.
These gardens are called living green walls or vertical gardens and they come in varied sizes and shapes.
All you need to do is allow your imagination to flow and see how you would want your garden to look indoors.
Pallet vertical garden:

For those who are in love with the rustic type of décor can go in to recycle their pallet.
In case if you have a pallet which is no longer being used and it needs a lot of refurbishing then you can truly look to add in plants to it for giving it that vertical garden touch.
It would instantly brighten the space and also add in some life to it. This pallet can be mounted on to the studs placed in the wall or just pop it up to the side of the room or the terrace.
You can make use of a variety of plant species, colorful plants that would make it look more natural and beautiful at the same time.
Hanging Garden in the patio space:

By making use of varied types of blooms such as in the colors of white, blue and purples you can create a vertical garden with boxes having some clean and fresh lines on to it.
Staggering the height of each of these boxes would, in turn, create an amazing backdrop along with a strong visual impact that is sure to garner compliments from your guests.
This is considered to be a perfect option for those who need to maximize space in case of a small garden or it can be also used as a screen for blocking any unwanted kind of views or it can also be created as an intimate section in your terrace or balcony.
This would also provide for changing the flowers as you wish on a seasonal basis.
Planter boxes: 
If you have a space in the house that is not being used much and needs some re-decoration then you can jazz up such boring looking space by placing planter boxes of different bright colors.
Overall the effect should be such that it has to immediately catch the attention and should lead to the eyes moving upwards.
The flowers should be such that it has to immediately create a visual impact and leave a lasting effect on the guests for its varied color and texture.
In this particular case, the boxes can be attached to a board which can be painted in any neutral color thereby adding more stability to it. The board can be hung on to the wall and it can create an inviting ambiance especially when it is placed near the entrance.
The vertical garden of steel mesh:

Having a steel mesh as a vertical garden can turn out to be one of the best ways to cheer up the boring looking flat without the need for doing too much work on it.
This is basically a simple yet an elegant looking vertical garden. You can simply hang the pots of plants on to the steel mesh with the help of a detachable hook so that in future it would become much easier to get the pots changed as and when needed.
This would also ensure that the entire look of the vertical garden remains fresh and lively.
Vertical garden with connected boxes: 
This is an out of the box idea for creating a vertical garden indoors. Though it may sound to be the technical sort of thing to be done since it would be having its own watering arrangements.
But you surely would have a lovely piece of art once it is completed. It may take time and proper planning to get it done but it would surely garner you praises once the work is completed. It can be personalized for meeting your requirements. In this structure, you can have flowering plants which may make the entire appearance amazing.
Modern vertical garden:

Unused metal pipes are one of the ideal solution for creating this modern looking vertical garden. The length of the pipes can be varied along with its colors. You can add in succulent's plants to these pipes.
There are thin looking metal wires which help in connecting each of the planter thereby adding in more stability while at the same time also creating a ladder like a look that can instantly draw anyone's attention to it from down to upwards.
This is considered to be one of the perfect indoor design especially for those looking for minimal design or it can be also considered to be a way of getting the outside nature indoors. Succulents are considered to be one of the best options in such cases but it is upto you.
Another option that can be noted is the use of creeping plants such as wandering jews, ivy and so on.
Little flower garden: 
For those of you who would want to have a mini garden at home itself can make use of any repurposed wood for creating sturdy and strong backdrop so as to match the shelves which would be holding up small pots of plants or herbs.
On either side, you can have two L brackets for supporting tiny buckets suspended from the chain. You can also add in labels of what species of plant it is.
This can be hung on to a sunny area indoors or on the porch.
This can be used for planting herbs used in cooking or it can be just to showcase some pretty bloomers having bright colors to it thus making it part of the value addition indoors.
Apart from the ones mentioned above, there are many more ideas in which you can create a vertical garden indoors itself and make use of the space. This would bring in nature inside and also instantly brighten up the area along with some positivity in the air.