Kitchen Backsplashes: The recent trend for installing modular kitchens has increased awareness amongst people about the importance of backsplashes. It not only protects the wall behind the cooktop, it also gives your kitchen a completely new look.
Your grandmother's kitchen might have a window behind the cooking range that provided an awesome view. But nowadays people have chosen to add a chimney on top of their cooking range to throw out all the heat and smoke that is generated while cooking.
But there is always that one instance where we spill  oil or water on the wall behind our cooking range. What happens next? Yes, it is the rant from other people in our house. And to prevent that, we make use of the backsplash. Modifying just that one area of your kitchen can give it a new face.
It doesn't matter what you want on that wall. There are some that have made use of designer tiles, while others have carved polished stones into that wall.
Even though there will be some pros and cons of each type of design that you choose, you just need to make sure that it blends in with the basic theme of your kitchen.
1 – The Stainless Steel Backsplash:
This is an all round backsplash. It can survive everything, from hot oil, to random splashes of anything. Moreover, it doesn't corrode or wears off the wall. Another great thing about this backsplash is that it can blend in any type of theme. It doesn't matter what kind of accessories you have, this steel backsplash will blend with all kinds of accessories.
Another great thing about this backsplash,is that it reflects light. This can easily make your kitchen look bigger. The only thing that you will need to think about, is that whether it will make your kitchen look like a restaurant's kitchen?
2 – Glass Backsplashes:
Glass has always been the favorite material of people. You might not know, but glass comes in two different types. The first one is the Solid Glass Block, and the second type is gGlass Tiles.
The Glass Blocks are arranged in coordination with the wall that is outside that glass. They can provide awesome natural light to your kitchen. On the other hand, the Glass Tiles are fixed on the wall of your kitchen. Also, if you want, you can add LED lights under your glass tiles to an extra look to your kitchen.
Glass is always the best option in anything. All you will be getting is an awesome modification that will give a magical glow to your kitchen, and even if you think that you had a bad design or color scheme in your kitchen. This glass will cover that. And since the glass is the bad conductor of heat, you won't have to worry about the heat being transferred on the wall. Another great thing about this is that there will be no growth of moss or mold.
One thing that you will need to keep in mind, is to make sure that you don't scratch it hard. Once there is a scratch or a crack, it will remain there like an ugly witch.
Also Read this: Modular Kitchens for People in Chandigarh
3 –The Soapstone Backsplash:
This is anotherpreferred type of backsplash. First, it doesn't require you to do any kind of hard work while cleaning, because all it needs is a glass cleaner wipe at the end of the day, and it will keep shining like new. Another great thing about this is that it comes in slabs and you won't need to have any type of cutting.
Some might misunderstand the Soapstone as marble, because it resembles it. Although it stores heat, it is not flammable. The maintenance of this stone is minimum, and you basically don't have to take any care of it.
You can do some hacks on it to make it shine like new. One hack for example, can be coating the surface of the stone with mineral oil, and it will keep shining.
This stone is great for kitchen's that have designs that are no bluff, and simple.
4 –The Ceramic Backsplashes:
Ceramic is the first thing that comes to our minds when modifying our bathrooms, and kitchens. It is one of the best options, because it is flexible and inexpensive. So even if you didn't like the design of the first tile that you purchased, you won't lose much money.
But here you will need to make up your mind whether you want the ceramic tiles that are textured, or that they are in multiple shades that will create an awesome design across your wall.
There is one thing that you will need to absolutely take care of. You will have to make sure that these tiles are sealed very tightly, or else the oil or water might seep into the gaps. This will result in the chipping of your ceramic tiles. Again, replacing those tiles won't cost you as much as replacing stones.
5 –Metal Backsplash:
If you want to give your kitchen an authentic and a glowing look, metal is the thing that you need. It is because they are waterproof in the first place, and that they will give your wall a much fresher look than other materials. Just make sure that you are not modifying your whole kitchen into metal walls, because then that glow would look like an ancient Egyptian temple.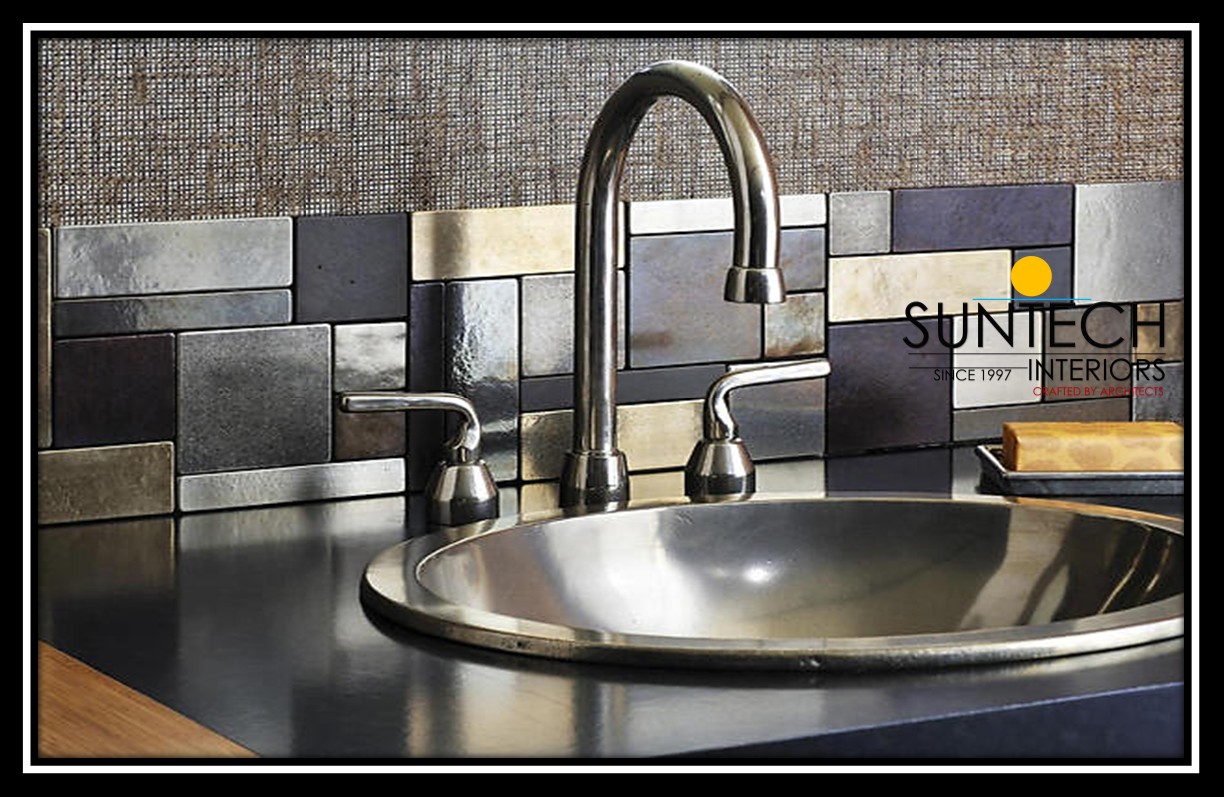 Metals are something that reflect class in every corner. Even though they incur higher maintenance than other materials, they are definitely worth the price.
You can go ahead and purchase a matte finished metal tile, or you can also consider brass or tin, because that too would do the magic.
6 – Marble Backsplash:
For people who want class in every corner of their kitchen, marble is the best thing for them. Because they let us calm down when we see those sober, yet gorgeous colors. It doesn't matter where you use it, it always looks great.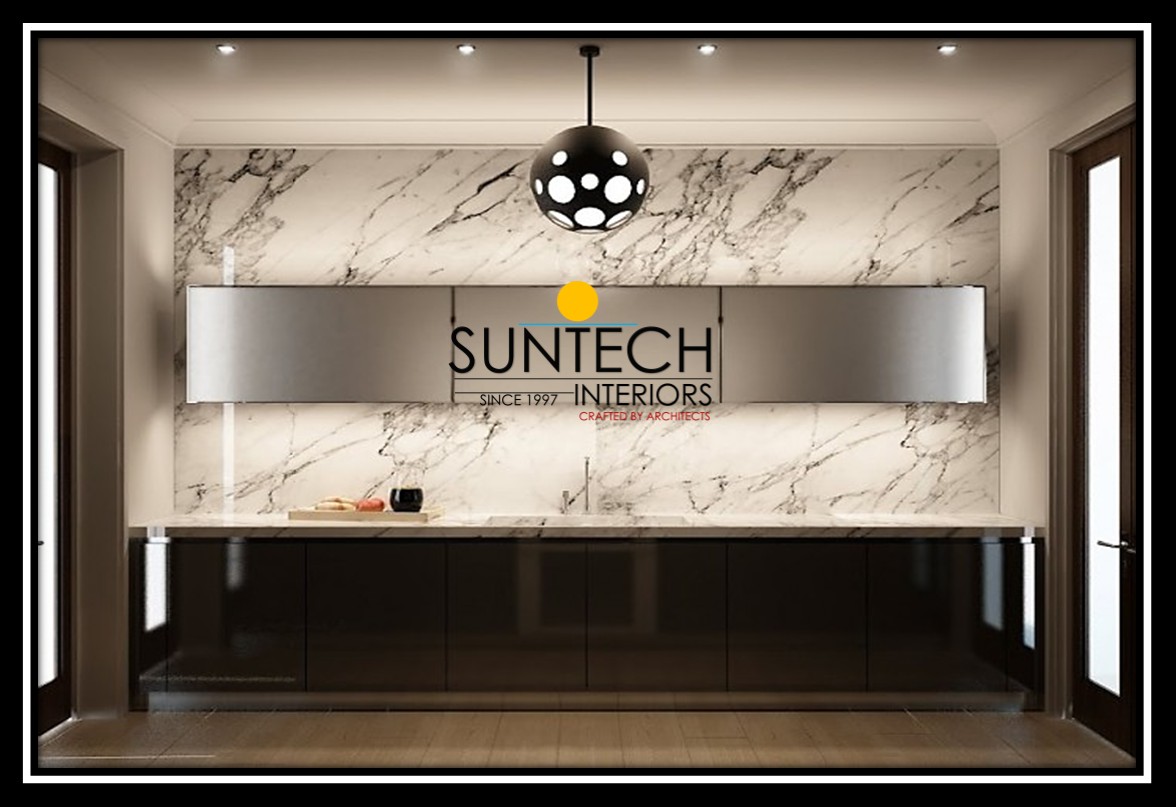 Using marble can prove to be risky in Indian kitchens, because of the splashes of curries and the turmeric that we use. Marbles are not heat and stain resistant and those curries and turmeric could spoil them.
But if you show some love and care for it, then it could turn out to be a perfect choice that you would've made.
7 – Mosaic Backsplash:
A mosaic backsplash is something that almost always does the magic. It doesn't matter what the theme of your kitchen is, if you are open to trying new things in your kitchen, this is the best option for you. All you have to do is remember the size of your pocket.
These mosaic tiles require little to no maintenance, and all you need to do is just wipe it in the evening, and it will keep smiling back at you forever. Also, if you are selecting these tiles, make sure that you try different colors and shades because those will almost always cast spell on your kitchen.
But don't take it in the wrong way, it will cast a spell in a good way.
8 – The Pebble Backsplash:
Pebbles are loved by everyone. And even if you use them in just one small area of your kitchen, it will completely transform the whole look of it. Also, you won't need any worker to install these for you if you are ready to gain some basic installation knowledge of it.
There is only one thing that you need to keep in mind, it is that you are taking enough care of it so that there are no turmeric spots, curry splashes or mustard seeds. Because these are proven to destroy the look of your pebbles.
And if you are worried about removing these backsplashes and cleaning them, then you will have to make sure that you are not purchasing removable backsplashes. Once these backsplashes start looking old, this should give you the sign that they should be changed.